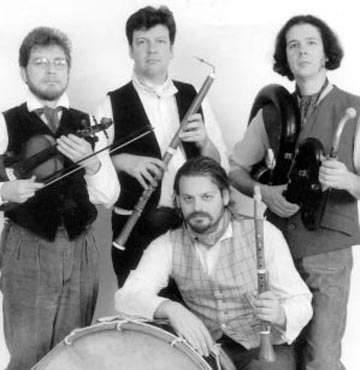 Phil Humphries with the Mellstock Band
Phil Humphries, ophicleide. Berlioz Historical Brass was delighted to include Phil in the recent recording of Les Mots de Berlioz. Phil is a member of both the London Serpent Trio and the Mellstock Band and performed at the major serpent events of the late 20th century, the 1987 Serpent Extravaganza (UK), the 1989 Serpent Festival (USA), and the 1990 Serpent Celebration (UK). Currently, he is the serpent instructor at the biennial Serpentarium.
Suzanne performing with Jay Krush during the Berlioz Historical Brass's debut concert in Boston, Oct 2003.
Suzanne Nelsen, bassoon, joined Berlioz Historical Brass as guest artist for the premiere performance of Le Monde du Serpent. Suzanne is a member of the Boston Symphony Orchestra, faculty member at The Boston Conservatory, and former member of the Montreal Symphony. As a member of a Boston Symphony Orchestra harmoniemusik ensemble, Suzanne recorded works by Haydn and Beethoven for Douglas Yeo's Le Monde du Serpent.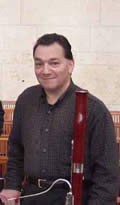 Ronald Haroutunian, bassoon, joined Berlioz Historical Brass in May 2003 to record Les Mots de Berlioz for the CD recording, Le Monde du Serpent. Ron performs with the Boston Symphony and Boston Pops Orchestras.