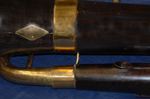 this instrument represents one of the few bass horns with an actual thumb-hole
One important designation among the upright serpents is the configuration of finger holes for the lengthening of the air column. Using Mendelssohn's 1824 line drawing of the English bass horn (sent in a letter to his sister, Fanny), finger holes have been placed in order on the air column as a way to display their positioning for this German bass horn.

Please include the following photo credit in any public presentation:
© Craig Kridel, Berlioz Historical Brass
For a complete description of the different types of bass horns,
see Bass horns and Russian bassoons by Craig Kridel.