EBF Fanfare, revised by Simon Proctor

Ralph Dudgeon, keyed bugle; Jeffrey Snedeker, horn;
David Loucky, trombone; Douglas Yeo, ophicleide
performing the EBF Fanfare

Mendelssohn's Seasons by Clifford Bevan
World premiere
with words by Henry Wadsworth Longfellow


An April Day
Rain in Summer
Autumn
King Witlaf's Drinking-Horn
Scored for brass instruments for which Mendelssohn exhibited particular fondness, Mendelssohn's Seasons is conceived as a composition to introduce choristers and choral audiences to early 19th century brass. With its allusions to Lobgesang, Sechs Lieder ohne Worte, Elijah, Ein Sommernachtstraum, and Festgesang, the composition offers many delights for the Mendelssohn aficionado as well as a pleasing experience for the general audience.


Jeffrey Snedeker, horn; David Loucky, trombone;
Craig Kridel, English bass horn; Douglas Yeo, ophicleide
The Anglican Singers of New London
Wim Becu, guest conductor

De Bronze et de Lumière Thérèse Brenet
World premiere


photo credit: Paul R. Johnson

Douglas Yeo, serpent; John Anthony, piano
Berlioz Historical Brass, an informal collective of musicians and academics, is dedicated to the exploration of early 19th century brass instruments and their use in choral, symphonic, chamber, and military music settings. The ensemble, including Ralph Dudgeon, Lowell Greer, Craig Kridel, Jay Krush, David Loucky, Benjamin Peck, Jeffrey Snedeker, and Douglas Yeo , engages in the presentation of twelve instruments--keyed bugle, natural horn, trombone, buccin, serpent, serpent Forveille, serpent a pavillon, Russian bassoon, cimbasso, English (German and Moravian) bass horn, ophimonocleide, and ophicleide--all used during Berlioz's time and most appearing in his Grande traite d'instrumentation. Berlioz Historical Brass has commissioned a series of early 19th century harmoniemusik and American Moravian performance editions, has prepared audio and video recordings featuring the serpent, bass horns, and ophicleide, has researched and published articles and essays about early 19th century brass instruments, and has scheduled and participated in various concert performances to introduce musicians, students, and audiences to early 19th century brass.

The Anglican Singers are artists-in-residence at St. James Episcopal Church, New London , Connecticut , and specialize in the Anglican service of choral evensong. Simon Holt (Royal College of Music; Royal College of Organists, London) serves as Director of The Anglican Singers as well as Founding Director of the Stonington Choral Society, Artistic Director of the Salt Marsh Opera Company, and Director of Music in School at the renowned St. Thomas Choir School in New York City.
Sopranos: Amy Bentley, Anne Bingham, Jill Foster, Marty Minich, Wendy Schnur, Carla Stebbins;
Altos: Susan Anderson, Dorothy Askelson, Anne Bourne, Katherine Brighty, Mary Harris, Faith Tyldsley, Jacqueline Yeung;
Tenors: Robert Kim Bingham, Tim Breitenstein, Philip Darrell, John Demlein, Randy Russ;
Basses: Christopher Foster, Steve Heller, Oliver Holt, Simon Holt, Edward Latimer, Charles Macdonald, David Percival, Aaron Primero, David Yeung
Guest Conductor: Wim Becu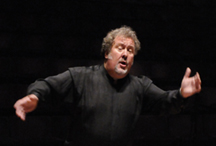 Wim Becu graduated from the Royal Conservatories of Antwerp and The Hague . In 1980 he began a long-lasting collaboration with the Huelgas Ensemble and Paul Van Nevel and, since 1985, he has served as the bass sackbut player of Concerto Palatino. He has worked with Philippe Herreweghe, Jos Van Immerseel, René Jacobs, Konrad Junghänel, Ton Koopman, Sigiswald Kuijken, Gustav Leonhardt, Andrew Parrott, Philippe Pierlot, Jordi Savall, Masaaki Suzuki and Bruce Dickey and, during the past 25 years, has appeared on more than 170 recordings. He is the founder and director of Olteremontano and, with Joris Verdin, has produced Trombone Soundscapes, a video presentation currently on YouTube. He performs on almost every historical trombone, and his repertoire stretches from the Middle Ages to the Romantic era. Wim serves as a professor at various academies in Belgium and at the Musikhochschule in Köln and has given master classes and courses in Belgium, Germany, Spain, the United States , and at the CNS de Lyon. He has served as the director of brass studies at the Amherst Early Music Festival since the mid-1990s and has conducted many of the Festival's choral and instrumental productions. His knowledge, wit, and inexhaustible enthusiasm has made him one of the most admired and beloved faculty members at the Amherst Early Music Festival.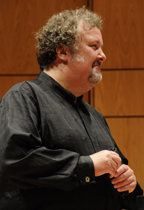 With Special Appreciation
To Dr. Margaret E. Thomas of Connecticut College
for her help and assistance with the organization of this performance.